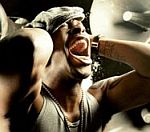 US rapper
Busta Rhymes
has been detained at London City Airport after being refused entry to the United Kingdom.
Officials are holding the rapper, who is due to perform at the Royal Albert Hall tomorrow, because of "unresolved convictions" in America.
An attempt to deport the rapper to Amsterdam earlier was thwarted by Rhymes' lawyer who secured an injunction, reports the BBC.
Rhymes is due to perform in London as part of the RockCorp charity event, which also features John Legend and Guillemots.
Stephen Greene, co-founder of RockCorp said he was "shocked" and said the rapper had the necessary work permit to perform in the country.
Rhymes also visited to the UK last month to promote the event.
Greene revealed that Ludacris was being flown to the country to fill in for the rapper in case he isn't allowed to perform.
(by Jason Gregory)