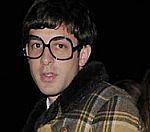 Mark Ronson
says that he would love to work with Eminem in the future.
The one-trick music producer is fervently anticipating Mr Mathers' sixth studio album and admits it would be great to work with the rapper.
The 33-year-old said: "I'm really excited about his comeback. I'd love to work with him. I wouldn't rule out doing a duet with anyone."
Aside from his previously announced production work with The Rumble Strips, Ronson continued that he's busy working on material for his new solo album.
"I always do side projects and produce for artists on the label. I'm concentrating on my own stuff right now - just banging out tracks. The more I keep producing, the better it seems I get. I start knowing stuff, learning the boards like the back of my hands", he blathered.
(by Scott Colothan)