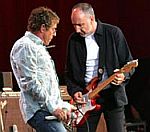 The Who
's Pete Townshend has been writing new material for the group, according to band mate Roger Daltrey.
The singer said Townshend's current bout of inspiration is one of the reason's why a forthcoming Who covers album has been delayed.
"[Townshend] doesn't like to talk about it," Daltrey told Billboard about the new material.
"He doesn't know if he likes it until he knows what it's going to sound like. You just have to be there for him if he needs you."
Although Daltrey insisted that the band's covers album, produced by T Bone Burnett, would be released, he said they may scale down the project.
"It still probably will happen, but I think the smaller the idea is kept, the better," he said.
"Small and fluid, maybe just something for our Website."
Earlier this week it was confirmed that both Daltrey and Townshend would be honoured with a Kennedy Centre award this December.
(by Jason Gregory)