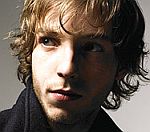 Singer
James Morrison
has revealed how
Madonna
snubbed him when the pair met in a recording studio in Los Angeles.
Morrison tried to introduce himself to the pop star earlier this year when she visited the same studio that he was using to record his second album.
But rather than return his gesture, Madonna chose to ignore the singer because she didn't recognise him.
"I'm not her biggest fan but thought I'd say hello so I went over and said: 'Hello, I'm James, nice to meet you,' and put my hand out to shake hands," he told the Metro.
"She just looked at it and said: 'And what do you do?' I told her I was a singer and she just stared at me and didn't say anything. It was really uncomfortable. Then she just ignored me."
Morrison added: "Fuck her, though, it's just a matter of common courtesy. It doesn't matter what someone does for a living. She's just rude. There's no excuse for it."
(by Jason Gregory)