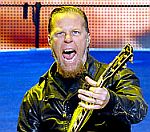 Fans who download
Metallica
's new album '
Death Magnetic
' via the video game Guitar Hero will receive exclusive content, it's been announced.
In addition to the album, fans will receive two copies of the track 'Suicide & Redemption' - one featuring a James Hetfield solo and the other a Kirk Hammett only solo.
As previously reported, Metallica will become the first band to simultaneously release an album on both traditional formats and a video game.
From 2am PDT on September 12th, the day the album is released worldwide, video gamers will be able to download it from the Xbox LIVE Marketplace and in the Playstation store.
The download will also be forward compatible with Guitar Hero World Tour, which is released in October.
(by Jason Gregory)