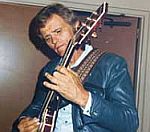 "The Guitar Man"
Jerry Reed
, a pioneer in the world of country music, has died at the age of 71.
Reed, who was born in Atlanta, died on Monday of complications arising from emphysema. He had undergone quadruple bypass surgery in 1999.
The guitarist enjoyed most of his success in the United States, where he picked up three Grammys, including one for his 1971 song 'When You're Hot, You're Hot'.
Sony BMG Nashville Chairman Joe Galante praised the musician.
"Everything about Jerry was distinctive - his guitar playing, writing, voice and especially his sense of humour," he said.
In addition to his music career, Reed also established himself in the movie industry in the 1970s, appearing in all three Smokey and the Bandit films.
()