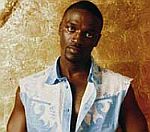 Akon
is set to go on trial for an incident last year where he tossed a fan off stage during a concert.
The singer was performing a concert in Fishkill, New York in June of 2007 when a fan reportedly threw a Frisbee in his face. He then proceeded to pull the boy out of the crowd and toss him back in, landing on another concertgoer, who claims she suffered a concussion from the incident.
According to the Associated Press, Akon has asked for a jury trial in the Fishkill Town Court for Wednesday, September 3. He is due back in court on December 1.
He has pleaded not guilty to all charges, which include misdemeanor charges of endangering the welfare of a minor and second-degree harassment.
(by Victoria Tsigonis)