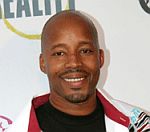 Warren G
has revealed that he is working on a tribute album for
Nate Dogg
, who died last month.
The rapper, who has already released a tribute song for his late friend, said the album would include tracks the pair previously recorded but never put out.
He is also working with some of Nate Dogg's admirers, including The Game and B.o.B, on new songs, reports MTV News.
Nate Dogg, most famed for his hit 'Regulate' with Warren G, died on March 15 at the age of 41.
Mourners at his funeral in Los Angeles included Snoop Dogg, The Game and Warren G.
(by Jason Gregory)