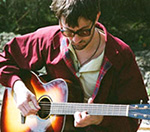 Blur
's
Graham Coxon
says that one of his highlights of the band's reformation last year was them sitting naked together in their dressing room eating Alex James' cheese.
The incident in question happened after Blur's intimate performance at London's Goldsmiths University - the very place where they formed the band.
Asked by Edith Bowman about his high point of 2009, Coxon said: "I think when we did Goldsmiths University that was really great because Alex had bought loads of his cheese and he was sorting us out a bit of Ryvita, some of his cheese a walnut and a little bit of honey.
"It was so hot at that gig that we all nearly keeled over and so we were all sat in the nude in our little dressing room eating cheese. Its not very nice, but semi nude! We had towels and stuff!"
He added: "That was good because that was kind of like the old days when you'd be sweating and exhausted and in the company of naked men!"
Edith Bowman presents Evo Music Rooms in association with Punto Evo, Thursday nights at 12:05 on Channel 4.
(by Scott Colothan)