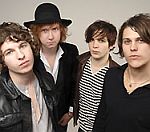 The Kooks
are to celebrate completing work on their new album by heading out on a special UK tour in May.
The band will perform at venues in towns and cities selected by their fans. You can nominate your preference at http://assets.emi.com/kooks/poll/.
The Kooks said: "We have not decided on all the locations yet so what we want you to do is suggest to us where you would love to see us play in your town or city. "Don't worry how wild your suggestion is, we could well take you up on it!"
The Kooks added that the tour would give fans the opportunity to "hear for yourselves why we think this is our best album yet".
The follow-up to 2008's 'Konk' is set for release later this year.
(by Jason Gregory)