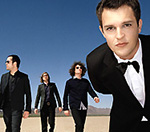 The Killers
drummer Ronnie Vannucci has revealed that the band have yet to start work on a new album.
In an interview with BBC 6 Music, Vannucci said his current priority was a news solo project, but said the band were due to hit the road in 2011 to play some select gigs.
Currently, they are confirm that play Lollapalooza in Chilie in April.
"For now it is a ways of, it's difficult to tell, we haven't gotten in a room together yet," he said of The Killers' plans to record a follow-up to 2008's 'Day & Age'.
"It's been said we want to take our time with this next one. We've been guilty of rushing in the past."
Vannucci is the second member of the four-piece to launch a solo project.
Last year, Brandon Flowers released his debut album 'Flamingo'. The singer is also due to play a series of summer festivals this year.
(by Jason Gregory)