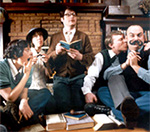 The Decemberists
have announced details of their 2011 UK and Ireland tour.
The Portland five piece will play seven dates in support of their forthcoming new album 'The King Is Dead'.
The tour kicks off in Dublin on March 4 and will conclude in London on March 16.
Tickets go on sale on Friday (November 19) at 9am.
The Decemberists' Winter UK tour dates are:
Dublin, Vicar Street – March 4

Glasgow, 02 ABC – 5

Birmingham, Institute – 7

Bristol, 02 Academy – 8

Manchester, Academy – 10

Leeds, 02 Academy – 11

London, Hammersmith Apollo - 16
(by Holly Frith)




Comments:

jykdcn
[17 June 2012, 16:20:35]
4yjJcz , [url=http://tvzlydxfmlhw.com/]tvzlydxfmlhw[/url], [link=http://npbxtvrxtqnj.com/]npbxtvrxtqnj[/link], http://ntpbujpfnhiu.com/

iQ0WF2 thmxwzqprdfi

RUyw82 , [url=http://whewxdafuvbn.com/]whewxdafuvbn[/url], [link=http://bqptufppfvye.com/]bqptufppfvye[/link], http://wmismzbflbtl.com/

Megumi
[15 June 2012, 06:04:34]
Scusate l'intervento che esula dall'argomento proposto ma voreri sottoporVi queste domande:Perch sono state eliminate queste funzioni dal sito?:I voti nei post sono stati eliminati, perch ?Penso che se un intervento risulta essere maleducato o insolente, sottolineando la disapprovazione degli altri utenti si instauri in chi l ha lasciato un timore o una riflessione su quanto ha scritto.Altrimenti, a meno che non ci sia una supervisione accurata degli amministratori, essendo il messaggio anonimo si potrebbero verificare degli abusi. Bannarli servirebbe a poco essendo l iscrizione anonima. Questo senza nulla togliere agli iscritti che mi sembra siano molto corretti e responsabili.Un altra cosa, molto pi importante di questa, ho notato che non pi possibile scrivere recensioni. E una cosa momentanea o c stata qualche decisione in merito? Sarebbe un peccato perch molto utile sapere com' un determinato gioco e come viene considerato