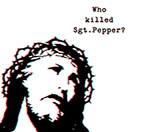 The Brian Jonestown Massacre
have unveiled details of their tenth studio album.
Titled 'Who Killed Sgt. Pepper?', a nod to The Beatles, the long-player also features an image of Jesus wearing the crown of thorns on the cover.
The record was recorded in Iceland and Berlin throughout 2009 and will be released digitally on December 28 before its physical release on February 22.
Featuring contributions from Will Carruthers, Unnur Andrea Einarsdottir and Felix from Amazing Electronic Talking Cave, the band are currently streaming the 13-track record in its entirety via their official website.
(by Scott Colothan)