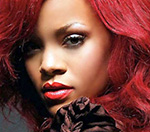 Rihanna
and
Usher
have enjoyed a secret date, according to reports.
The two US R&B singers spent time together at Coachella last weekend, before going out on for a secret dinner in New York.
"They had a really good time together last weekend and wanted to see each other again somewhere private straight after," a source told The Sun.
"They've known each other for a long time but it's always been bad timing. They've had a few long, passionate kisses. There's definitely a spark between them. "
A source added: "It would have been too obvious to go somewhere in LA and they were both going back to New York for work commitments."
(by Jason Gregory)


Comments:











Joe
[23 October 2014, 10:26:08]
I never liked Rihanna (she's terrible live from what I've seen on YouTube) ever since she beamce a sellout artist but then again, I think this is just some plain shameless publicity stunt trying to boost their already popular careers. http://enqapxiac.com [url=http://qsxxqlkqgzn.com]qsxxqlkqgzn[/url] [link=http://oxddukxxaej.com]oxddukxxaej[/link]

Jessica
[20 October 2014, 21:19:26]
Feb11 People need to get lives, there are thousands of woman who go back to their aubsive partners, I am in no way saying it is ok but it happens and Riri is only human, plus everyone deserves a 2nd chance(Chris).

Well, I think the difference is that Michael aclutlay had it as part of a dance that had a bigger picture, and it was always a part of a meaning behind the song or the video. Rihanna I feel is pretending to masturbate on stage. She is not elegant.

Anna
[17 October 2014, 05:26:18]
when her dog gets nervous she has litlte accidents and then the cut away to the poor sad doggy awe that's classic.So my favorite part of this is the music! Right on . Poop Freeze music Rocks!On a totally seperate note: so Spanky, where is the post you i told you to help me with? I don't see it up here thanks a lot, now qbix is gonna think I was snoozing all weekend.

Kaydi
[12 August 2011, 10:03:54]
Kewl you shluod come up with that. Excellent!