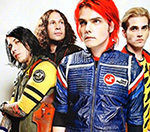 My Chemical Romance
have revealed why they chose
Pulp
's 'Common People' to cover on tour.
The band performed the cover of the 1995 classic on Radio 1's 'Live Lounge' yesterday (March 31).
"This ('Common People') is a song that, growing up in New Jersey, it was very important to me and Mikey (Way). It was very relevant to us, feeling like you were in a place you could never get out of, that you were never going to escape," guitarist Frank Iero said.
He added: "I remember pushing carts at a supermarket listening to this song on headphones on a cassette player and wondering whether the hell I was ever going to get out of New Jersey."
"It ('Common People') speaks to regular people and that's why it's so great. And they're an amazing band."
My Chemical Romance will join the Foo Fighters, Lady Gaga and Tinie Tempah at this year's Radio 1 Big weekend.
(by Holly Frith)