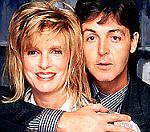 Sir
Paul McCartney
has paid tribute to his late wife Linda, whose photographs have been compiled in a new book.
The book, entitled Linda McCartney: Life In Photographs, is released on April 20, and has been compiled from an archive of over 200,000 images taken by the photographer.
Speaking ahead of its release, Sir Paul said: "From the early days I have very much admired her photography and being able to experience it personally only added to my feelings of admiration.
"In those days, it was quite unusual for a woman photographer to be working on her own in photography and, in many ways, I know she has inspired a large number of female photographers who followed in her footsteps."
Linda McCartney was widely regarded as one of the leading music photographers in the late 1960s, and captured the likes of Jimi Hendrix, Janis Joplin and The Who.
She and Sir Paul married in 1969. Linda died in 1998 after a three-year battle against breast cancer. She was 56.
(by Jason Gregory)


Comments:


ThaCigo
[15 February 2018, 20:47:14]

Shanfer
[11 October 2017, 18:26:44]








This was taken in December 67 when the Boys played at a Unicef gala. They met the Maharishi in his hotel room. In '68 they tried to tour with him, but that was calecned for poor attendance. http://ajhgheywd.com [url=http://bmbxisvysdg.com]bmbxisvysdg[/url] [link=http://fssfebxnir.com]fssfebxnir[/link]

Ilias
[23 July 2013, 07:12:13]
gia tous rotarianous k mena oi gneisos m periorizontai sto pedio tis eleytheris drasi k tis filanthropias.eixa kathigites oi opoioi itan rotaranoi k otan malista tous koroideya oti proketai peri masonikwn stown k ta toiayta m proskalesan na symmetasxo epeidi symmeteixan(kata t legomena twn) alla paidia synomilikoi mou.parola ayta dn piga.i drasi tous opws m tin perigrapsane einai san twn proskopwn.kanonizoun ekdiloseis,ekdromes k imerides.pantws gnorizo oti eixan kalesei palaiotera k ton kougia na milisei.oi idioi(pateras k gios)itan polla xronia stous rotary kai oi dyo einai ellinikis katagogis k filologoi sto epaggelma.

Cyrus
[22 July 2013, 21:58:37]
Love this song and Paul's high octane veroisn of it, with that great playing on his marvellous Les Paul. Thanks for posting it. Perhaps it is the best veroisn going around now but if you ever get to see the one where he is rehearsing this song, wearing cream pants and a pink shirt well OMG now THAT is awesome! http://lqzxvhxmpg.com [url=http://xhhkxcryvyh.com]xhhkxcryvyh[/url] [link=http://riuctmtklvn.com]riuctmtklvn[/link]

Tea
[22 July 2013, 15:33:02]
Joe / He is 68 years old!! He has been performing since he was a teneegar. Yes, he can't hit the high notes anymore. The voice just isn't what it once was. It's called getting old. But he has accomplished more musically in his lifetime than most can even dream about.Don't expect him to sound like he did when he was 20, not gonna happen.Axl Rose can't hit those high notes like he did years ago either and he is much younger. Age happens.So yea, if people still want to go see him and he is willing to get up and do it, knowing his voice is not what it once was, so be it. He has paid his dues and lived the dream.

Tsutae
[19 July 2013, 19:01:30]
steve mckenzie / I've alawys been a fan of the Beatles. I consider Paul as the greatest singer,song writer,musician that ever lived,however, his decision to constantly tour without giving his vocal chords proper rest has severely damaged his voice.It's sad to say,but his performance last night reminded me so much of an old fighter who refuses to retire and goes back into the ring for a butt whipping.His creativeness and musicianship are still very much in tack and maybe after a long rest,his voice would return.I would hope that his desire to perform would decrease and his desire to take care of himself increase.The man hasn't anything to prove by me.

ALPUSJ tydffyzbntxi

L7CD2Y , [url=http://ishviramkqwf.com/]ishviramkqwf[/url], [link=http://ftjspdvvvgix.com/]ftjspdvvvgix[/link], http://zeklfsfxclyg.com/

tVu2IW szoqopxvttkm

Carlos
[14 February 2012, 02:29:54]
Linz, that is an aosewme sketch! I like to draw too, but I'm definitely not that advanced. Love ya, cuz!