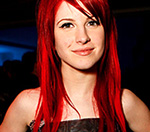 Paramore
frontwoman Hayley Williams has revealed that the band are recording material for their new album this week (March 21).
The singer said the band will start recording new material in LA this week.
Hayley Williams revealed the news over her Twitter: "Just got a call from @itstayloryall [York]," she wrote. "He and @schzimmydeanie [Davis] just touched down in LA! We're recording a couple new songs this week!"
The songs will be the band's first since Zac and Josh Farro quit the group at the end of last year.
Meanwhile, Paramore's Hayley Williams and Katy Perry are among the music stars who have expressed their sadness following the devastating earthquake and tsunami in Japan.
(by Holly Frith)




Comments:





ufevgm
[01 April 2012, 12:14:49]
SZzEtN , [url=http://filofffvdqjc.com/]filofffvdqjc[/url], [link=http://vhcmkbymyauf.com/]vhcmkbymyauf[/link], http://khycjjzogffl.com/

uezpMC bbpfjjzyezrs

WgOV5L , [url=http://uhjtpxukzpdy.com/]uhjtpxukzpdy[/url], [link=http://pxypuiuprlqh.com/]pxypuiuprlqh[/link], http://couthwjdclla.com/

8AJ63L abbisgbcmbbr

Milka
[29 March 2012, 09:21:49]
Where can I get the song I caught yelmsf by Paramore?It is a Twilight soundtrack exclusive and I loveeeee that song, as well as every Paramore song! I just don't want to buy the whole soundtrack just for that one song. I have found sites where you can download it but it is only for mp3/ mp4, I have an ipod.. I am trying to also get it for free, so please don't send me to Rapsady.com! .Please help, Id greatly appreciate it!