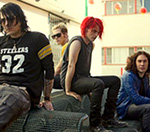 My Chemical Romance
have revealed that they may not return with their characters The Killjoys for their new video to single 'Bulletproof Heart'.
The band, who introduced their alter egos for new album 'Danger Days: The True Lives of the Fabulous Killjoys', said they may not be featured in their next video.
"'Bulletproof Heart' we're actually still talking about, and we're not definitely sure yet if it's going to go back to that world," frontman Gerard Way told MTV.
He added: "Actually I think that's almost cooler to stretch it out as long as we can because, again, the story is not so important. The things that happened in those videos are really just metaphors for the way we saw the world, or stuff that really happened."
"I like a gap, I think it should be a gap. And then I think that when you do get that final part, when the right song comes along, I don't know that it'll make perfect sense."
Meanwhile, My Chemical Romance have recorded a special version of their single 'Sing' for the victims of the recent Japanese earthquake and Tsunami.
(by Holly Frith)