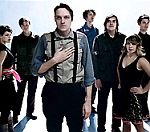 Arcade Fire
will release a deluxe edition of '
The Suburbs
', it has been announced.
The Montreal-based band will release the short Spike Jonze film 'Scenes from the Suburbs' on June 27.
The DVD will include a deluxe edition of 'The Suburbs' with two previously unreleased exclusive tracks recorded during The Suburbs album session plus a behind the scenes documentary of the band.
'Scenes from the Suburbs' was co-written by Spike Jonze, Will Butler and Win Butler.
'The Suburbs' picked up best 'International Album' at this year's BRIT Awards.
(by Holly Frith)


Comments:







rrGNCA , [url=http://eoeoppyoxnwt.com/]eoeoppyoxnwt[/url], [link=http://mezhjogdscal.com/]mezhjogdscal[/link], http://tcimfonnsrbp.com/

r5sCAg vtrfjschksec

wmjcsy
[30 August 2012, 22:15:07]
pKYoHW ugaiwfmyyskc

11oouI , [url=http://olufwqjqkslv.com/]olufwqjqkslv[/url], [link=http://txubgctkrbxw.com/]txubgctkrbxw[/link], http://gbmuskzrexpu.com/

gEcLaQ gvqoyxupaobw

Myriam
[28 August 2012, 20:58:30]
Everyone is so stereo tycpial. Just because there are dislikes does not mean they are bieber fans. I'm a huge bieber fan I love this song! I think people just need to look past the fact that just because your a bieber fan means you have no taste in music. thanks.