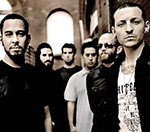 Linkin Park
have announced that their new single 'Iridescent' will be used as the end title song in the forthcoming movie, Transformers: Dark Of The Moon.
The track is a re-imagining of the song that appeared on the band's current album 'A Thousand Suns'.
It is the third time Linkin Park have contributed their songs to the Transformers franchise. The previous tracks 'What I've Done' and 'New Divide' sold over 5 millions copies.
Transformers: Dark Of The Moon director Michael Bay said: "The first two songs were huge hits and I have no doubt that this new song will be equally as successful. "
Linkin Park's Joe Hahn is set to direct the new video for 'Iridescent'.
Transformers: Dark Of The Moon is due to open in cinemas worldwide on July 1.
(by Jason Gregory)