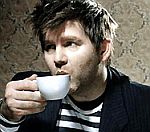 LCD Soundsystem
's final gig will be released as a live DVD.
The band, fronted by James Murphy, played their final show at Madison Square Garden on April 2.
The frontman revealed that the show was filmed and will be released as a live DVD in the near future, reports Rolling Stone.
Their final gig included a surprise appearance from Montreal-based band Arcade Fire. Arcade Fire's Win and Will Butler, Régine Chassagne and Jeremy Gara accompanied LCD Soundsystem as backing singers on 'North American Scum'.
LCD Soundsystem's set was:
Dance Yrself Clean

Drunk Girls

I Can Change

Time to Get Away

Get Innocuous!

Daft Punk is Playing at My House

Too Much Love

All My Friends

Tired

45:33 Part One

45:33 Part Two

Sound of Silver

45:33 Part Four

45:33 Part Five

45:33 Part Six

Freak Out/Starry Eyes

Us V. Them

North American Scum

Bye Bye Bayou (Alan Vega cover)

You Wanted a Hit

Tribulations

Movement

Yeah

Someone Great

Losing My Edge

Home

All I Want

Jump Into the Fire (Harry Nilsson cover)

New York, I Love You But You're Bringing Me Down
(by Holly Frith)


Comments:



seo
[12 December 2016, 17:13:08]
Hello Web Admin, I noticed that your On-Page SEO is is missing a few factors, for one you do not use all three H tags in your post, also I notice that you are not using bold or italics properly in your SEO optimization. On-Page SEO means more now than ever since the new Google update: Panda. No longer are backlinks and simply pinging or sending out a RSS feed the key to getting Google PageRank or Alexa Rankings, You now NEED On-Page SEO. So what is good On-Page SEO?First your keyword must appear in the title.Then it must appear in the URL.You have to optimize your keyword and make sure that it has a nice keyword density of 3-5% in your article with relevant LSI (Latent Semantic Indexing). Then you should spread all H1,H2,H3 tags in your article.Your Keyword should appear in your first paragraph and in the last sentence of the page. You should have relevant usage of Bold and italics of your keyword.There should be one internal link to a page on your blog and you should have one image with an alt tag that has your keyword....wait there's even more Now what if i told you there was a simple Wordpress plugin that does all the On-Page SEO, and automatically for you? That's right AUTOMATICALLY, just watch this 4minute video for more information at. Seo Plugin
seo

gmKIRn prgopvnqaqxf

rrhdr7 , [url=http://mhoecdjhwoka.com/]mhoecdjhwoka[/url], [link=http://nwcgwrgwgxxk.com/]nwcgwrgwgxxk[/link], http://dchcgclnljbj.com/

Dokdok
[07 June 2012, 02:18:49]
you def chose the best 2 songs to throw up on the blog. You wanted a hit is my favitore by far. Had no idea this may be their last album..nice write-up Sherm!