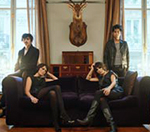 Ladytron
are set to release a greatest hits album according to band member Ruben Wu.
"We've got some ideas about what we want to do about the next album, but I think first we're going to release a 'Best of Ladytron,'" multi-instrumentalist Reuben Wu told Spinner. "Since we've done four albums, I think it would be time to put something like that together."
2009 sees the Liverpool electro quartet celebrating ten years as a band and they are currently working on Christina Aguilera's next album.
Wu expects the best-of collection will be ready in about six months, and in addition to music, the package will include some of the artwork the group has made part of its live shows.
"We were able to put a lot of visual stuff we amassed over the years, which would be very interesting to our fans, and new fans," Wu said. "Since we've been working with Christina, I think a lot of new audiences out there will want to know about us."
(by David Renshaw)