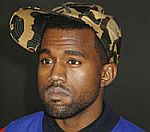 US rapper
Kanye West
has compared
50 Cent
's frequent insults and taunting behaviour to being spat on.
West said he found it hard to ignore the rapper's derogatory comments, which in the past have included allegations about his sexuality.
"Just as a real human being, I can't say that it doesn't affect me," he told Bossip.
"I was such a fan of 50. As much as people think that I look at myself, I think that me and Lil Wayne are very similar: Even though we believe in ourselves, we're very much fans of other rappers, too."
Despite being the subject of 50 Cent's attacks, West still spoke fondly about the rapper.
"He was my favorite rapper since Mase when he dropped, and when I used to be around him, he was one of the few people that I was, like, really a fan of," he said.
West, who produced a number of still unreleased songs for 50 Cent early on in the rappers' careers, admitted he used to be"nervous" around the star.
"This is even when I had 'College Dropout' and 'Jesus Walks.' Jay-Z and 50 are two types of guys you really want to make some good music for," he said.
West added: "So, for me as a fan of him, I felt like if he said something negative and tried to make it like I'm negative, it's almost like if a little kid walks up to you at the airport and is like, 'Man, I love you so much,' and then you spit on him, it's like, [jokingly] 'I don't know if I love you as much as I used you,' as you wipe the spit off your face. But you still play their music."
(by Jason Gregory)