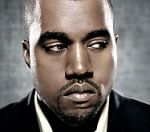 Kanye West
has briefly responded via his
blog
to
50 Cent
's recent mocking of him on stage at a concert.
The mocking took place during a performance in Albany, New York where 50 sang a snippet of West's new single 'Love Lockdown' and his G-Unit counterpart Tony Yayo pretended to smash a camera, referring to the recent paparazzi incident that occurred with West and his manager last week.
"I'm very excited about the everything... I guarantee this will be 50's favorite album of mine. This will be gangster's album of the year," he writes.
He also revealed the progress of his upcoming album '808's and Heartbreak'.
"I just woke up from a quick studio nap... I've been workin' on 808s and Heartbreak about 16 hrs a day and Superman passed out for a little bit... I'm in Hawaii but I'm still on NY time so I wake up mad early, do some business, blog, jog for an hour, play ball, eat and then hit the stu by noon. "
"While approving the final cut for the Love Lockdown vid, I marvel at the fact that it was written less than 3 weeks ago."
Kanye West's new album is set for release in December of this year.
(by Victoria Tsigonis)