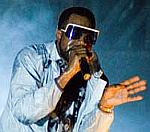 Kanye West
will close this year years MTV Video Music Awards in Los Angeles, a year after vowing never to appear on the channel again.
West made the pledge in 2007 after missing out on all five awards he was nominated for.
He said at the time: "That's two years in a row, man... give a black man a chance. I'm trying hard, man, I have the... number one record, man."
As previously reported, Britney Spears will open the show but will not perform. Instead she has vowed to "kick off" proceedings.
MTV president Van Toffler said he would be "rooting" for Spears, saying that it felt like her year.
This years VMAs will be presented by comedian Russell Brand and artists scheduled to perform live include T.I., Rihanna, Lil' Wayne and Paramore.
(by Jason Gregory)