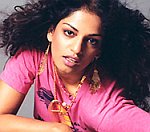 M.I.A
has recruited
Chris Brown
to help record her new album, it has been revealed.
Brown, the former boyfriend of Rihanna, is one of a host of musicians M.I.A is collaborating with on the as-yet-untitled effort.
Niles 'Cyrano' Hollowell-Dhar, one-half of the duo Cataracs, told Bilboard the signer was keen to impress following the poor reception her album album, "/\/\ /\ Y /\", received when it was released last summer.
"I think she's really going f*cking H.A.M. (hard as a mother f*cker) on this," he said. "She's not pulling any punches."
Swizz Beatz and Polow da Don have also been working in the studio with M.I.A in Los Angeles.
(by Jason Gregory)