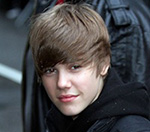 Justin Bieber
has closed the gap in his race to replace
Lady Gaga
as the most followed person on Twitter.
The teen star passed 6 millions followers earlier today (November 9) and is now just one million behind Lady Gaga.
"6 MILLION OF THE GREATEST FANS ON EARTH ON TWITTER!!!! THANK U," Bieber wrote on Twitter.
"This is crazy...My Hometown only has 30,000 people total! NUTS."
The singer, who won two awards at last weekend's MTV Europe Music Awards (EMAs), is also close to passing 15 million fans on Facebook.
Along with Lady Gaga, his videos also have more than one billion views on YouTube.
(by Jason Gregory)