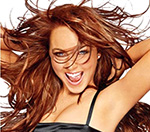 Lindsay Lohan
wants to record a song with
La Roux
in a bid to revive her music career, according to reports.
The Hollywood actress is said to be ready to return to music following recent troubles in her private life.
"Lindsay wants to be seen as a credible artist in the film and music worlds so is putting together a wish list of people, including La Roux, to help her move from Z-list films and a less than cool music career," a source told the Daily Mirror.
Lohan has previously released two albums, 2004's 'Speak' and 'A Little More Personal (Raw)' in 2005.
Meanwhile, La Roux's Elly Jackson has record a song with Jay-Z and Kanye West, which is due to feature on the rapper's forthcoming joint album 'Watch The Throne'.
(by Jason Gregory)