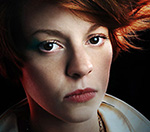 La Roux
singer Elly Jackson has admitted that the group are surprised to have obtained celebrity fans.
The British group have become a hit in the US due to their hit 'Bulletproof' - and now count stars of Jersey Shore and Kim Kardashian as followers.
"A few months ago, someone sent me a tweet that Kim Kardashian - and I only just found out who the Kardashians were - and they said she just tweeted, 'This time I'll be bulletproof'," Jackson told MTV News.
"And she's got this bullet bracelet on, and they said she tweeted that, and I was like, 'Now that's really weird.'"
Jackson admitted that she was unable to "compute" that the South London band's music had reached "millionaires in LA".
As previously reported, Jackson is set to appear on the forthcoming album from Jay-Z and Kanye West.
(by Jason Gregory)