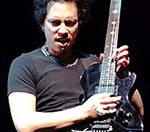 Metallica
's Kirk Hammett has paid tribute to former
Thin Lizzy
guitarist
Gary Moore
, who died last weekend.
The 58-year-old guitarist died while on holiday in Spain. He is believed to have suffered a heart attack.
In an editorial for Rolling Stone, guitarist Hammett said Moore was in his "top five guitar influences" alongside Jimi Hendrix, Eddie Van Halen, Stevie Ray Vaughan and Michael Schenker.
He also recalled his chance first meeting with the guitarist in a lift in a German hotel a year and a half ago.
"I got into the elevator on the fifth floor and the elevator stopped on the fourth floor and in comes Gary Moore. I just couldn't believe it," he said.
"I introduced myself and had a chance to tell him how much of an influence he was on me."
Hammett added: "He couldn't have been more gracious to me though, and in retrospect I'm very glad I had the opportunity."
Sir Bob Geldof, Bryan Adams and founding Thin Lizzy member Brian Downey have also paid tribute to Moore, who also enjoyed success as a solo star.
(by Jason Gregory)