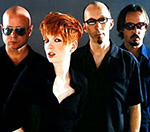 Garbage
have reformed and are recording a new album.
Singer Shirley Manson said the band were currently recording the follow-up to 2005's 'Bleed Like Me'.
"I'm working on a record right now with the band. We've recorded quite a lot but it's difficult to quantify," she told The Herald.
"It's the first one in a long time. I took about five years off."
Manson failed to divulge any more details about their new musical direction but added that the band hoped to tour next year.
(by Jason Gregory)