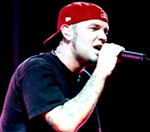 Limp Bizkit
's
Fred Durst
is leading a vote to rename a rubbish tip in Austin, Texas.
The city has launched an online poll to find an adequate title to replace the department's current name, Solid Waste Services Department.
The suggestion involving Durst - Fred Durst Society of the Humanities and Arts – has received more than 11,000 votes from the public.
It is comfortably ahead of the other suggestions including George W Bush Institution of WMD Removal and the Ministry Of Filth.
Voting is open now at austin.uservoice.com until February 10. The new department name will be announced in late April 2011.
(by Jason Gregory)