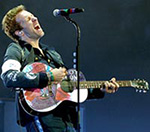 Coldplay
frontman Chris Martin covered
Oasis
' 'Wonderwall' during a secret gig in London last night (April 13).
The singer played a short three-song set at a benefit gig at the Boogaloo pub in Highgate curated by actor Simon Pegg.
Martin, who had flown in from the US for the performance, kicked off with a new song, which he told the crowd wasn't on the band's new album, but "might be a bit soppy".
He then asked the crowd what he should play next, prompting a female member of the audience to request 'Wonderwall'.
Fan site Coldplaying.com reports that Martin replied: "F*ck it, I'll do it! But only if you do it with me."
The girl then got on stage and sang the track alongside the singer.
Martin concluded his performance with a performance of Coldplay's song, 'Green Eyes', accompanied by Pegg on harmonica.
(by Jason Gregory)