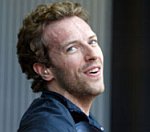 Coldplay
's Chris Martin has failed in his bid to land a nomination for this year's Academy Awards.
Martin was in contention for 'Me and Tennessee', which is sung by his wife Gwyneth Paltrow in the movie, Country Strong.
Randy Newman continued his Oscar run with 'We Belong Together' from Toy Story 3 nominated for Original Song.
The Original Song shortlist was completed by Alan Menken's 'I See The Light', from Tangled, A.R. Rahman's 'If I Rise', from 127 hours and Tom Douglas' 'Coming Home', from Country Strong.
In the other music-based category, How To Train Your Dragon, Inception, The King's Speech, 127 Hours and The Social Network were nominated for Best Original Score.
The 83rd Academy Awards will be presented on February 27 in Los Angeles.
(by Holly Frith)