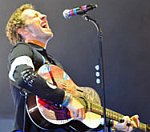 Coldplay
are converting their studio into an outer space environment to record their new album, it's been reported.
Singer Chris Martin has apparently taken an interest in the universe and asked their crew to create the space setting to help inspire the album.
"Chris likes to create a certain mood when he's in full creative flow," a source told The Sun newspaper.
"The crew scratched their heads a little when he first came up with the request but they're cracking away now."
It is not the first time that Martin's personal interests have had an impact on the band's music.
The singer started following 18th Century revolutionary politics during sessions for the band's last album 'Viva La Vida or Death and All His Friends'.
As previously reported, Coldplay previewed new material during shows in South America earlier this year.
(by Jason Gregory)