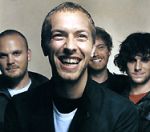 Coldplay
are to release a special version of new single 'Lost' which features US rapper
Jay-Z
.
In a message on their website, the band said the song was part of series of "musical moves that we have not previously attempted."
In addition to the Jay-Z remix, the band will release a new EP in November entitled 'Prospekt's March'.
The EP contains eight songs that were not completed in time for the deadline of their latest album 'Viva La Vida or Death and All His Friends'.
Coldplay frontman Chris Martin has previously made guest appearances on Jay-Z's own material.
The EP's tracklisting is as follows:
Life In Technicolour II

Postcards From Far Away

Glass Of Water

Rainy Day

Prospekt's March / Poppyfields

Lost +

Lovers in Japan (Osaka Sun remix)

ow My Feet Won't Touch The Ground

(by Jason Gregory)







See also:

Eminem, Muse, Coldplay, Foo Fighters To Play Lollapalooza Festival 2011

(26.04.2011)

Beyonce To Be Joined By Jay-Z, Kanye West, Chris Martin At Glastonbury Festival 2011?

(14.04.2011)

Coldplay's Chris Martin Covers Oasis At Secret London Gig

(14.04.2011)

Jay-Z Interviews Gwyneth Paltrow About Hip-Hop And Nirvana

(13.04.2011)

Jay-Z Records Vocals For New Sade Song 'The Moon And The Sky'

(12.04.2011)

Coldplay, Muse and Blur 'Asked To Write London 2012 Olympics Anthem'

(08.04.2011)

Coldplay's New Album Nearly Complete

(30.03.2011)

Liam Gallagher Launches Attack On Jay-Z Over Fashion Line

(30.03.2011)

Coldplay, Bono Give Radio 1 DJ Jo Whiley Emotional Send-Off

(28.03.2011)

Kanye West And Jay-Z's 'Watch The Throne' Album Nearly Ready

(23.03.2011)

Kanye West Joined By Jay-Z, John Legend At SXSW Festival 2011

(21.03.2011)




Coldplay. All news for this artist

Jay-Z. All news for this artist