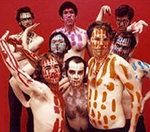 !!!
have paid tribute to their drummer Jerry Fuchs who
died after falling down an elevator shaft
in New York on Sunday morning (November 8).
Paying homage to the "special" person that Jerry was, the band wrote on their Myspace page:
"thanks to everyone who has contacted us with their love and support. we could never put into words how special a person jerry was and how much we loved him. we ask that you tell all the people you care about and are thankful for that you love them. we wish we still had jerry."
The tragic accident occurred when a manual elevator stopped between floors and Fuchs tried to jump onto the floor below.
He was just 34-years-old when he passed away.
(by Scott Colothan)