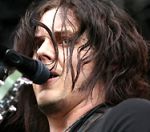 Former
White Stripes
Jack White has said he has no plans to ever form a new band.
The musician, who announced earlier this month that The White Stripes had ended, said he would now focus on his other projects The Raconteurs and The Dead Weather, or working solo.
"If I can't say it in any of these bands, then I'll say it by myself," he told Q magazine.
White released six albums with White Stripes before announcing on February 2 that he and Meg White had parted company.
They said the decision was "for a myriad of reasons, but mostly to preserve what is beautiful and special about the band and have it stay that way".
(by Jason Gregory)