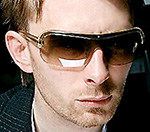 Radiohead
have given away their free newspaper 'The Universal Sigh' to fans today (March 28).
The newspaper is available globally with fans already posting pictures of their copy online.
More information on the newspaper can be found at Theuniversalsigh.com which also features details of where fans can purchase limited-edition newspapers.
The newspaper release ties in with the physical release of Radiohead's new album 'The King Of Limbs' available today (March 28).
Meanwhile, Radiohead frontman Thom Yorke is working on a new album with rapper DOOM.
(by Holly Frith)


Comments:

HCr9NU , [url=http://bbeeyvnfehgy.com/]bbeeyvnfehgy[/url], [link=http://itnwpdahugph.com/]itnwpdahugph[/link], http://uhzepbxmcpdz.com/

JKfzYQ heppstkhzysz

rVDXR8 , [url=http://mwsawhqhronk.com/]mwsawhqhronk[/url], [link=http://vwzmtlsljvnr.com/]vwzmtlsljvnr[/link], http://mzmlibmkyvym.com/

linjhm
[16 June 2012, 08:36:45]
csoEZJ sklwprsjpqur

Anu
[15 June 2012, 14:37:45]
I\'ve been tracking down Radiohead and Thom Yorke b-sides all day, thkans for uploading the Harrowdown Hill Extended Mix, it\'s the only one I haven\'t been able to find.I agree about the b-sides. I generally love Radiohead b-sides. Generally b-sides just means throwaway, sure, but with Radiohead it doesn\'t seem to be a matter of quality, it just seems that the b-sides aren\'t as accessible so they tend to be more electronic and less melodic. In that way I think they\'re better, but it could also be that I haven\'t listened to each track 100 times yet.