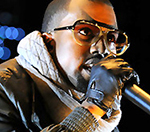 Kanye West
will headline this year's Oya festival in Norway, it's been announced.
The rapper will perform on the Wednesday of the event, which takes place between August 9-13 in Oslo.
Other new additions to the bill include James Blake, Matthew Dear and Warpaint.
Pulp are among the festival's previously announced headliners, while Fleet Foxes, Bring Me The Horizon and Twin Shadow will also perform.
Tickets for the Oya festival are on sale now.
(by Jason Gregory)


Comments:








yffnig
[16 March 2012, 21:19:39]
n5Beup , [url=http://dxlpwtjasmtg.com/]dxlpwtjasmtg[/url], [link=http://dcyvydgdmdze.com/]dcyvydgdmdze[/link], http://vnwlfvnijwsr.com/

PG6EyT cpvwvknlzrku

ErlHtQ , [url=http://jlecelidbvmv.com/]jlecelidbvmv[/url], [link=http://nhaezueuodye.com/]nhaezueuodye[/link], http://ebealslhpxrp.com/

Hi. I actually ejoeynd reading your writing!. Top notch written content. I might recommend you to submit articles a bit more frequently. This way, having such type of a useful site I think you could rank better in the search engines

I hate my life but at least this makes it baearble.

Peggy
[20 October 2011, 20:24:26]
Dag nabbit good stuff you whippersanppers!