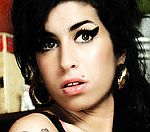 Amy Winehouse
is hard at work on her new album says her boyfriend.
The singer, whose last album was 2006's 'Back To Black', is said to be cutting back on her partying ways to concentrate on her new album.
"We've been together nearly a year now and we're very happy. Amy's doing well, she's fine. She's healthy and happy," boyfriend Reg Traviss told The Sun.
He added: "She's still writing and recording stuff for her new album. She's really throwing herself into it."
Meanwhile, Amy Winehouse is 'petrified' that her former boyfriend will write songs about their relationship, it has been reported.
(by Holly Frith)