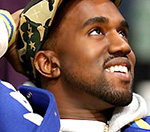 The 'Kanye West Foundation' charity set up to reduce high school drop outs has mysteriously closed.
An email sent out by former executive director, Joseph Collins, to other non-profit groups explained that the foundation had closed, reports the New York Times. "I am reaching out to let you know that the Kanye West Foundation (kanyewestfoundation.org) has officially closed it doors after a successful 4+ years of programming and events," Collins wrote.
"It has been an incredible experience working with Kanye and the board to realize his mother's vision and I am honored to have been given the opportunity to lead the Foundation."
Collins refused to comment on why the foundation had closed when approached by the New York Times and told the paper to contact West directly.
The 'Kanye West Foundation' was not directly financed by West but raised money through other organisations and connections to the rapper. Money to the organisation declined slowly  after the sudden death of the rapper's mother, Donda West in 2007.
(by Holly Frith)