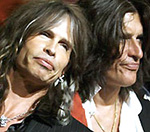 Aerosmith
frontman Steven Tyler has said he wants to start working on a new album but that he can't locate guitarist Joe Perry.
The singer, who has endured an acrimonious relationship with Perry in recent years, is currently trying to bring the band back together.
"We're having trouble getting Joe [Perry]," Tyler told Rolling Stone.
"I don't know where he is, but just come down to LA at the end of January sometime. I've had enough downtime."
The singer went on to accuse Perry of suffering from "LSD – Lead Strummer Disorder".
In November, drummer Joey Kramer said the group were "destined" to record another album and that it would be a return to their classic rock sound.
Tyler was recently unveiled as a judge on the upcoming series of American Idol.
(by Jason Gregory)