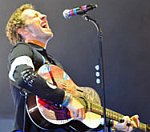 Coldplay
frontman Chris Martin has compared the band's working environment to I'm A Celebrity…Get Me Out Of Here.
The group are currently putting the finishing touches to their new album with producer Brian Eno at their studio in London.
Martin told BBC News that their method of recording mirrored the jungle reality show.
"It's very much like I'm a Celebrity, Get Me Out of Here in our studio," he saidn. "A lot of difficult tasks and people that you find it hard to get along with, i.e. me."
Meanwhile, the singer has also revealed that Coldplay's new album will be a concept album.
He said the follow-up to 2008's Eno-helmed 'Viva La Vida Or Death And All His Friends' was from "the point of view of two people who are a bit lost".
He added: "Two like-minded outsiders who meet in a very difficult environment and therefore have a journey together."
Coldplay are due to play two charity gigs in Liverpool and Newcastle later this month.
(by Jason Gregory)