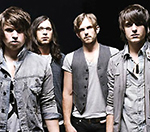 Kings of Leon
have spoken out about the controversy surrounding their latest video 'Pyro'.
The band sent out requests to fans to take part in a two-day video shoot last month (November 19).
The original advert which has now been removed on Newyork.craigslist.com sought out fans for 'characters with scars, pockmarked skin, physical abnormalities or deformities,' reports Aux.tv.
"We were really embarrassed about it but we had nothing to do with it," guitarist Matthew Followill told The Sun.
He added: "They put it out and as soon as we read it we were humiliated and phoned the managers. We were furious."
Meanwhile, Kings Of Leon are set to headline next year's Isle of Wight festival, organisers have announced.
(by Holly Frith)