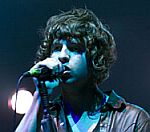 The Kooks
have revealed they have taken influnence from
Beck
on forthcoming album.
The follow-up to 2008's 'Konk' is set for release next year and is said to showcase a new sound for the band.
"It quite different it's still going to be the same kind of roots but we've been getting involved with using different instrumentation and things like that but it's still going to be Kooks," Luke Pritchard told XFM.
He added: "Personally I've always had a real thing of keeping it really organic but this album we're quite Beck influenced in a way, using loops - live drum takes but looping it - I've got quite obsessed with this David Lynch-y eerie synthesiser thing."
Meanwhile, The Kooks, Suggs of Madness and Orbital have recorded a silent song in an attempt to prevent the X Factor from dominating this year's Christmas chart.
(by Holly Frith)