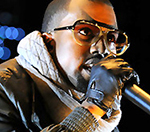 Kanye West
gives
Michael Jackson
a shout out in his remix of
La Roux
's 'In For The Kill'.
The rapper's refers to the late singer's hit 'Thriller' during his special verse for the track, which is currently streaming on EW.com.
"He's a very exciting person to be around. He's a special breed of person. He's not quite like anyone I've ever met before," La Roux's Elly Jackson said recently of her meeting with West.
La Roux are also set to appear on West's forthcoming solo album 'My Beautiful Dark Twisted Fantasy'.
The rapper discussed to collaborators at a press conference in London last week.
The album, which is the follow-up to 2008's '808s And Heartbreak' is released on November 22.
(by Jason Gregory)