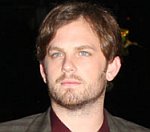 Kings Of Leon
frontman Caleb Followill has revealed that he initially lacked confidence in the band's new album.
The singer ab-libbed most of the lyrics on 'Come Around Sundown' and introduces new instruments, including a fiddle and trumpet.
Followill said he was unsure about what the band had recorded after he played it to his model girlfriend, Lily Aldridge.
"I played her one song, and when I did, she looked at me and went, 'What the f*ck? Why haven't you played me this? What are you scared of?'" he told Uncut.
"Before you know it, we had listened to every song, and she just loved it. That gave me the confidence to say, 'All right, well, maybe I'm in my head too much'."
'Come Around Sundown' is due to be released on October 18.
The follow-up to 2009's 'Only By The Night' was recorded alongside Norah Jones-producer Jacquire King.
(by Jason Gregory)