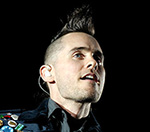 30 Seconds To Mars
'
pink haired singer
Jared Leto says the band never want to quit.
The Hollywood star explained that the European leg of the Into The Wild world tour has rejuvenated the band and they feel as though they are at a "new beginning,"
"We're just really excited, and we don't want to stop," he enthused to MTV,com. "This band is never exhausted. We've been able to play the songs on (This Is War) for audiences in Europe, and now we're getting to play them for fans here.
"And right now, that's what's most exciting ... to have people hear it and experience it."
The 38-year-old also urged people in the US to come to their shows, adding: "It's a celebration, it's emotional, it's a big, loud show.
"But, really, you've got to come out and see it. That's the best way to put it."
(by Scott Colothan)