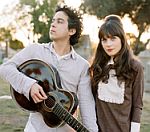 She & Him
will play a second show in London next month, it's been announced.
The duo, which includes singer and actress Zooey Deschanel, will perform at ULU on May 9.
The date is in addition to their previously announced gig at Koko on May 7, which has already sold out.
Tickets for the ULU gig are on sale now.
(by Jason Gregory)